Summary
In 2022, organizations are worried quite a lot about attracting and retaining talent. With COVID-19 still raging, labor shortages are impacting production and inflation has surged. In December of 2021, inflation was 7 percent higher compared to a year ago — a 40-year high — which worsened to 7.5 percent in January 2022.
Adjusted for inflation, the real value of wages has been on a steady decline for the better part of a year. But let's be honest: Wages were dissatisfactory before that and it's not the only aspect of the employment experience that has driven people to rethink what they want out of life. Workers are seeking better opportunities. At first, this was called the Great Resignation, then the Great Reshuffle, but in truth, it's both. It's a Great Reevaluation. People want better.
Expectations have changed. Workers want more satisfying employment experiences and careers.
Compensation has an important role to play here. Employers are scrambling for the salary data they need to figure out what to offer new hires, what to do for pay increases to retain the current workforce, how to provide better benefits that account for both physical and mental health, and how to accommodate workplace flexibility and remote work.
Basically, the employee experience has never been more important. Employees don't just want to trade their time for money anymore, especially wages that are dropping in real value month over month. They want to be meaningfully incentivized for their labor. They want career satisfaction.
Fortunately, Payscale can help. Our compensation best practices survey is the largest survey of its kind to help employers understand how their peers are tackling these challenges.
Labor Challenges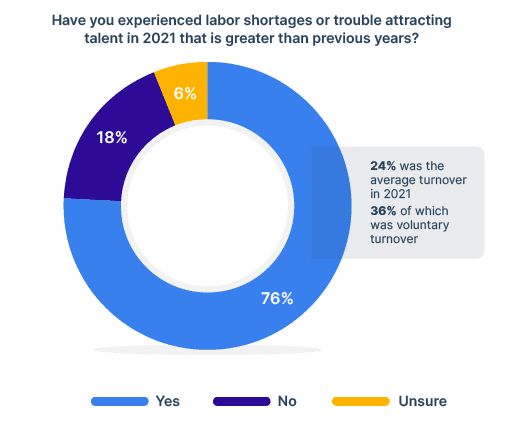 Despite unemployment being high in 2021 compared to recent years, 76 percent of organizations say they experienced labor shortages or difficulty attracting talent in 2021. Our full report includes data insights on labor challenges, including breakdown of the data by company size and industry as well as analysis on what organizations are doing to attract and retain workers and improve the employee experience.
Top level findings in the full report include:
76% of organizations have experienced labor shortages or difficulty attracting talent in 2021.
24% was the average turnover in 2021; 36 percent of which was voluntary turnover.
49% of organizations say that voluntary turnover has increased compared to previous years.
75% of organizations are not looking to replace workers with automation to solve shortages.
Pay Increases
Pay increases are a critical issue for employers this year. We are seeing a dramatic increase in the percentage of organizations (92 percent) participating in giving pay increases in 2022, up from 85 percent in 2021 and 67 percent during COVID-19 in 2020. The amount that base pay will increase is also looking to rise compared to previous years. However, it may not be enough to combat inflation.
More insights related to pay increases are in the full report but include:
92% of orgs are giving base pay increases in 2022.
44% of orgs are planning to give pay increases higher than 3 percent — a 13 percent increase over the average the last six years.
33% of orgs that cut or froze pay in 2020 did not make up for it and don't plan to.
44% of orgs say that pay is the reason they are losing talent.
85% of orgs are worried about inflation but only 29 percent increased their budget.
Breakdown of percent pay increases over time
Compensation Strategy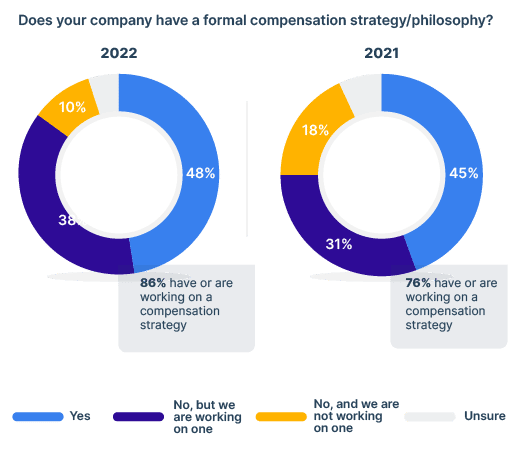 In 2022, the percentage of organizations saying they either have a compensation strategy or are working on one increased by 10 percent to 86 percent. However, only 53 percent of organizations are fairly confident or very confident in the effectiveness of their total reward package to attract and retain talent.
The full report has more findings, including:
86% of orgs say they have a compensation strategy or are working on one — a 10 percent increases from last year and a 16 percent increase from previous years.
53% of orgs are fairly confident or very confident in their total rewards package.
75% of orgs expect compensation will be more challenging in 2022 and 70 percent plan to invest more in compensation management.
Benefits that have increased the most between 2021 and 2022 include remote work (25% increase to 65% overall), a work-from-home stipend (8.3% increase to 15% overall), flextime (7.7% increase to 37% overall), and having a mental health or wellness program (7% increase to 66% overall). Another benefit to increase slightly but notably is the 4-day work week (3.2% increase to 11% overall).
Compensation Team & Maturity
One of the biggest differentiators between top performing organizations and non-top performing organizations is the presence of a person or team dedication to compensation. Although only 44 percent have a person or team in a role dedicated to compensation, the percentage is higher for top performing organizations (48 percent) than non-top performing organizations (33 percent).
The full report provides additional insights on compensation teams and overall maturity level, including:
44% of organizations have a person or team solely dedicated to compensation.
31% of organizations are currently a 3 or 4 out of 4 on the compensation maturity model (out of 4), advancing or optimizing their pay practices.
41% of Payscale customers are more likely to be advancing or optimizing their pay practices compared to 23 percent of non-Payscale customers.
Pay Equity
Two thirds of respondents reported that pay equity is a planned or current initiative at their organization. This is a 20 percent increase compared to 2021. As in previous years, we also see a clear difference in commitment to pay equity analysis between top performing organizations (67 percent) and non-top performing ones (58 percent).
The full report has more findings related to pay equity, including:
66% of organizations say pay equity analysis is a planned initiative in 2022.
52% of orgs plan to do pay equity analysis in 2022 — the first year it's been a majority.

 

36% of orgs know what their organization's gender pay gap.
29% of orgs know their racial pay gap.
38% of orgs are doing something to address their pay gaps.
9% of organizations not doing pay equity analysis say it's because leadership believes pay gaps are nonsense.
Remote Work & Flexibility
Fewer organizations are worried about remote work changing the competitive landscape for attracting and retaining talent now compared to six months ago, likely due to the prevalence of companies opting for traditional or hybrid work environments (75 percent), which will mean that organizations will still be competing for talent locally.
The full report has more findings related to remote work, including:
85% of orgs agree or strongly agree that workplace flexibility is a key driver of employee engagement — 12 percent higher than compensation.
47% of orgs express concern that remote work will disrupt the competitive landscape.
74% of orgs say that remote work is not a driving factor for adjusting their compensation strategy and structures.
42% of orgs have a pay strategy for remote workers or are working on it (18% currently have a strategy currently).
40% of orgs are interested in using geographic differentials for location-based pay.
Pay Communications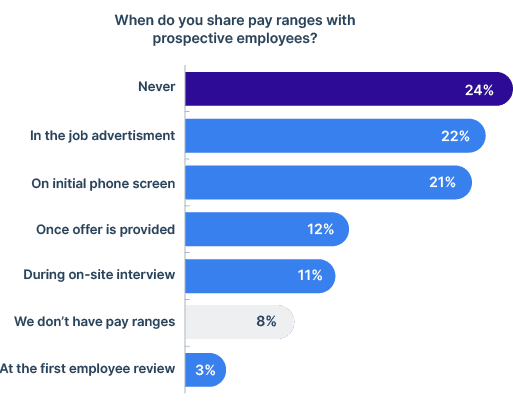 Most organizations want to have more pay transparency but are hesitant to share their pay practices. However, it's important to be able to communicate pay decisions effectively with candidates and employees. Done correctly, pay communications can foster trust and engagement within a company. If done poorly, retention and company culture may suffer.
The full report has more findings related to pay communications, including:
68% of organizations share pay ranges with employees but only 22 percent do so in the job ad.
40% of organizations provide a total rewards statement to employees.
54% do not train their managers on how to have conversations about pay with employees.
60% of organizations want to be at least a 3 on the pay transparency spectrum but only 36 percent evaluate themselves as such.
Methodology
The 2022 Compensation Best Practices Survey gathered responses from November 2021 to January 2022. There were 5,578 respondents. Our analysis includes cuts of the data across multiple factors, including top performing versus non-top performing organizations, organization size, and industry. We also collect data on location as well as information on the survey participant's job level and role.
Top Performers
Top-performing organizations are defined as those who exceeded their revenue goals in 2021. In this year's study, a quarter of respondents (25 percent) fit this criterion.
Organization Size
We defined five organizational sizes for comparison as follows: Small (1-99 employees), Mid-Size (100-749 employees), Large (750-4,999 employees), Enterprise (5,000-49,999 employees), and Large Enterprise (50,000 or more employees). About 35 percent of respondents reflect small organizations; 31 percent of respondents come from mid-sized organizations; 17 percent of respondents come from large organizations; 12 percent come from enterprise organizations and 5 percent from large enterprise organizations.
Industry
Our report provides response data for organizations in 15 industries. As in prior years, the top industries represented in the survey were Technology (including software), Healthcare and Social Assistance, Manufacturing, Finance & Insurance, and Nonprofits.
Location
Respondents spanned the globe, including 4,225 respondents in the United States and 532 respondents in Canada. While organizations with both single and multiple locations were represented, a majority of organizations surveyed reported a presence in multiple geographic locations.
Job Level
A majority of respondents identified as Manager or above (74 percent). A quarter of respondents identified their job level as Individual Contributors (26 percent).
Roles
Our respondents play a variety of roles in the compensation process, including: reviewing and making pay increase recommendations (66 and 64 percent, respectively), completing comp market studies (62 percent), job evaluation (61 percent), updating comp structures (61 percent), setting new hire pay (52 percent), administering incentive and bonus plans for their organization (45 percent), setting comp budget (33 percent), and much more.
Download our report
Payscale's 2022 Compensation Best Practices Report is an 60+ page analysis of compensation trends and charts taken from our survey of over 5,000 compensation professionals, HR leaders, and business executives. Covering everything from base pay increases to compensation strategy, pay equity, and pay communications, this report offers unique insights on the state of the labor market and what other organizations are doing in terms of compensation and total rewards to attract and retain talent.