Summary
2021 has been a whopper of a year. The Great Reshuffle has dominated headlines throughout 2021 and it's no wonder why. In 2020, employers prepared for a recession by laying off tens of millions of workers. Those that managed to hang onto their jobs were wary of making any moves in an uncertain economy. In 2021, the economy began to rebound. Organizations are now scrambling to re-staff while also trying to hire for projected growth. Workers are finding that they can have their pick of jobs. So, what are the hottest ones?
In this report, Payscale analyzes over 856,000 salary profiles completed between October 2020 and October 2021 by U.S. workers to curate our 2021 hottest jobs list. These are the top 10 jobs by profile growth for job seekers — or people who are filling out a salary profile with Payscale to evaluate a salary offer associated with a new position. We provide profiles on the top ten jobs as well as contextual information about labor trends such as job openings vs. separations and wage growth vs. inflation.
Top 10 Hottest Jobs Rank List
The top 10 hottest jobs are those with the most profile growth among people who say they are evaluating a job offer for a new position in Payscale's online salary survey. Beauty consultants top the list, with an astonishing profile growth of 79 percent. Are retailers struggling in particular to find people to sell makeup and skincare products… or are these jobs just among the most attractive of retail clerk positions, considering that retail sales associate also tops the list and that beauty consultants make — at the median — a few thousand dollars more?
Senior recruiters, recruiting coordinators, and compensation analysts also fall among the top 10 hottest jobs in 2021. The COVID-19 pandemic and the Great Reshuffle has been particularly challenging on human resources, beginning with layoffs that wiped out over 20 million jobs in April of 2020. That situation has now boomeranged into a hiring frenzy as job openings and separations have cycled into a boiling froth.
In this market, laborers have the upper hand. Workers want more from their employment experiences. They want to be paid more and to be paid equitably to other workers. This is making the compensation analyst in particular a critical team member in a manner that hasn't really been seen before.
2021 Labor Market Trends
Employers everywhere agree: It's harder to find workers right now. But what is fueling the difficulty of attracting and retaining talent in 2021?
Given that unemployment is still above 2019 levels (4.2 percent in November), the current labor market situation can't technically be defined as a labor shortage. It's also evidently not the extended unemployment benefits from COVID-19, as these ended in September and the perception of a labor shortage has not abated since then. However, unemployment is approaching rates pre-pandemic, so the job market is tightening.
Speculation as to why job openings remain unfulfilled include ongoing fears of contracting COVID-19, especially among essential workers who are more at risk of exposure, people leaving the workforce temporarily or permanently to pursue education, entrepreneurial endeavors, or passion projects, the early retirement of American workers over the age of 55, and the challenges associated with working while caring for school age children still at home.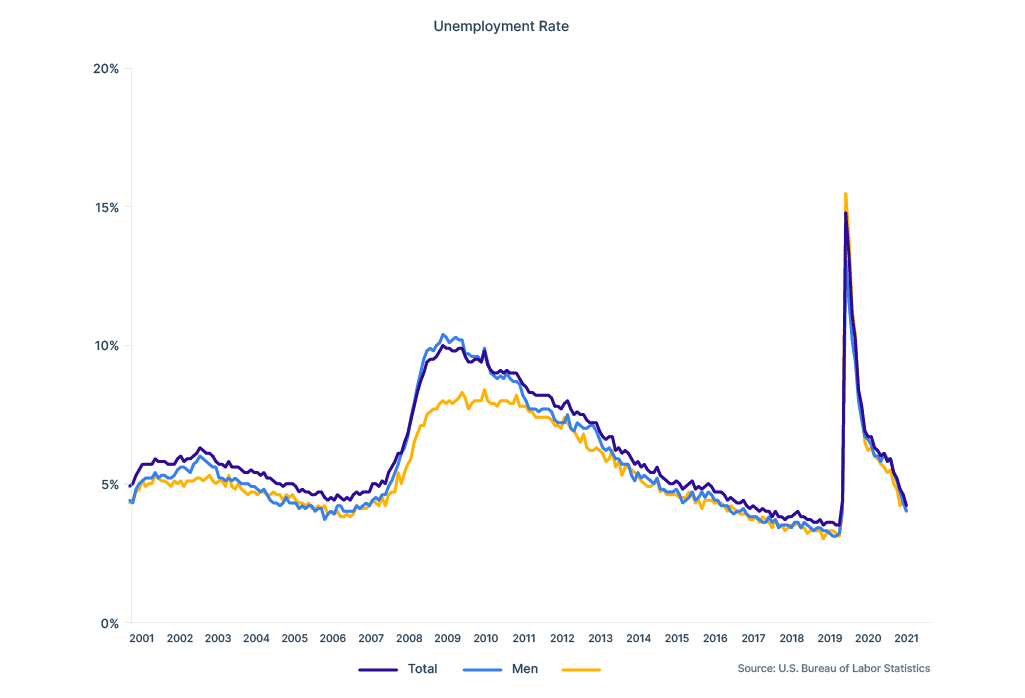 Reasons for Unemployment
Payscale's online salary survey asks participants if they have been unemployed. Of those that affirmed that they not been working recently, we ask the reason for why they have been unemployed. Collectively, responses show that reasons for unemployment are varied and not driven by any specific factor.
The largest percentage of respondents (26 percent) said that they were let go or quit their previous position. Roughly another quarter of respondents cited education or additional training as the reason they took a break from the workforce. Around 12 percent of respondents say that they were caring for a child or another family member. Ten percent said they relocated and five percent said they were dealing with health issues which may or may not be COVID-19 related. Nearly another quarter of respondents (23 percent) cited some other reason.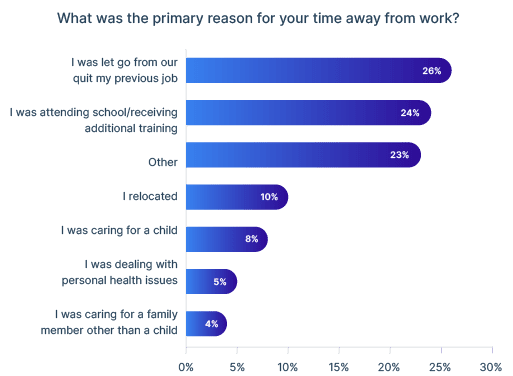 Wage Growth vs. Inflation
A big contender for why labor is so hard to attract right now is that wages are simply not tempting enough in many cases to entice laborers to work positions that are low paid, risky, difficult, or unfulfilling — at least not in this hot of a job market.
This makes sense. The United States is an open economy where the spoils go to the most competitive. That includes talent. Basic economics stipulates that there is always a price point to attract labor and that when demand outstrips supply, labor has more power to bargain. However, organizations that are struggling may not want to raise wages to meet this price point, especially if the situation is temporary.
But do workers deserve more pay? Some statistics suggest that it's long overdue, at least in certain sectors. Payscale Index has tracked wage growth since just before the Great Recession of 2006, monitoring both nominal wage increases (how much wages go up overall) as well as real wage growth (how much wages go up when controlled for inflation).
Nominal wage growth was tepid for over a decade following the last recession — and still is in certain industries and occupations, especially for low-income jobs influenced by the minimum wage. When controlled for inflation, wages have really suffered. The divide has gotten noticeably worse as inflation has spiked in the last six months due to shortages in the global supply chain from the economic impact of COVID-19.
Job Openings vs. Separations
It's notable that job openings, hires, and separations have all increased in 2021 compared to 2019. In September, the number of quits increased to a series high of 4.4 million according to the Bureau of Labor Statistics (BLS). Is the increase in separations driven by low pay?
We looked at the industries with the highest wage growth according to Payscale Index — accommodations and food services, leisure and hospitality, arts and entertainment, transportation, and retail — and found that the percentage of hires continues to exceed separations across all industries, meaning that separations are not happening at a greater rate than employers have been able to hire. Both have increased. Meanwhile, job openings have exploded.
Basically, what this indicates is that the challenges of attracting talent is due to organizations all competing with each other to fill the talent gaps they have from all the jobs lost in the previous year. In addition, they are trying to grow the talent they need to boost operations in a rebounding economy. This heightened demand creates an abundance of opportunity and fuels intense competition. In this market, candidates can be choosy about where they apply to work and can even skip around (take a job and then resign to take another job) to land the best opportunity, which propagates a state of continuous churn.
In other words, the heightened demand and lack of supply stimulates wage increases, but it is not driven by them.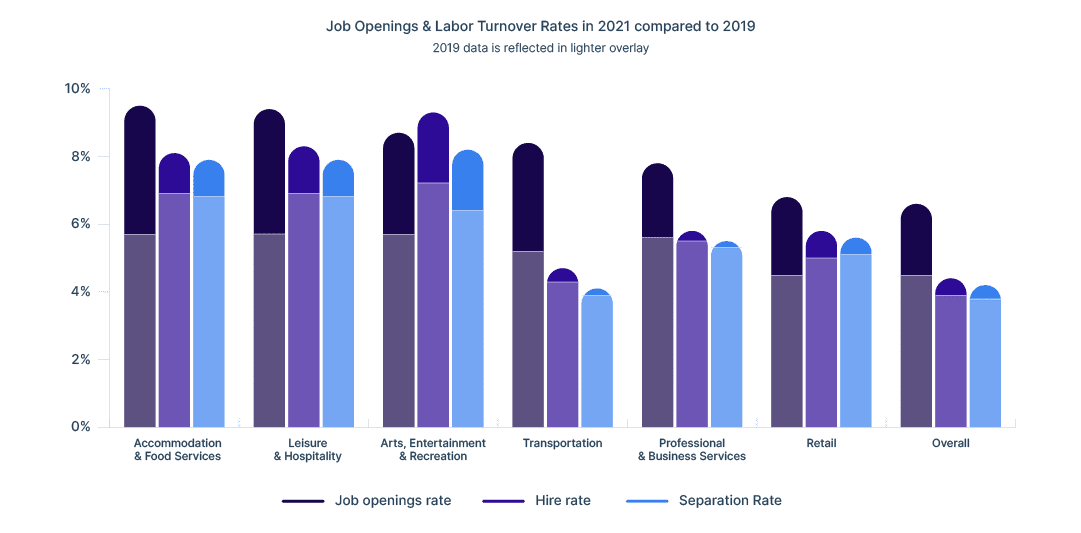 Profiles: The 10 Hottest Jobs
Regardless of the reasons, the job market is hot, and some jobs are hotter than others. Here's a little more information about each one of the jobs that made the top 10 hottest jobs list for 2021. These are the jobs that have grown fastest in Payscale's database of salary profiles among people who have identified themselves as filling out a salary survey in order to evaluate a job offer. The median pay associated with these positions reflect organizations both large and small, in big cities and small towns, and across all experience levels, skillsets, and responsibilities.
To get a more complete understanding of the salary range for your position, fill out a salary profile with Payscale.com. For a top ranked list of the hottest jobs holistically (not tied to job offers) as well as the hottest jobs by wage growth, scroll down to download our report for employers.
Beauty Consultant
Do you like doing other people's makeup? Do you want to work the beauty counter in a retail store or give advice about how people can look their best? So do a lot of people!
Beauty consultants advise customers on the best cosmetic and skin care products and conduct product demonstrations. Salary profiles for this position among job seekers grew 79 percent in 2021 and wages grew by 7 percent, which is above average.
Perhaps demand for beauty has grown as people get back out into the world as social distancing restrictions are lifted due to vaccines, or perhaps this position is attractive because it earns more than other retail positions.
Senior Data Engineer
Demand for data engineers has outstripped supply for years, especially data engineers with knowledge of modern cloud architectures, serverless databases, and machine learning. Data engineers are critical for organizations looking to glean business insights from data as they must first efficiently govern and manage data and enable data pipelines.
Job seekers filling out salary profiles for this position have increased by 51 percent. Wages for this position have increased only three percent, but as this is a highly compensated position already, three percent is still an attractive boost to people with these skills.
This position also has the luxury to work remotely about 50 percent of the time. IT occupations have higher expectations for remote work generally compared to other occupations, which could be driving job seeking behavior in 2021 in organizations that haven't yet caught up to this expectation.
Senior Recruiter
The Great Reshuffle has been hard on recruiting. When layoffs happened in 2020, many recruiters lost their positions along with many other occupations. Now organizations can't hire fast enough.
With a global competition for talent taking place all at once, candidates have options and are being picky about the opportunity, work culture, and environment, even after they have accepted offers, which leads to cycles of hires and resignations. To meet demand, experienced recruiters who can source top talent, create winning interview experiences, and seal the deal are needed everywhere.
Profiles among job seekers checking out salaries have grown 38 percent for this position. Wages have only increased by two percent, but recruiting is heavily commissioned in a lot of organizations. Over half of people with this position also report working from home most of the time or all of the time, so workplace flexibility may be something you need to offer to retain your best recruiters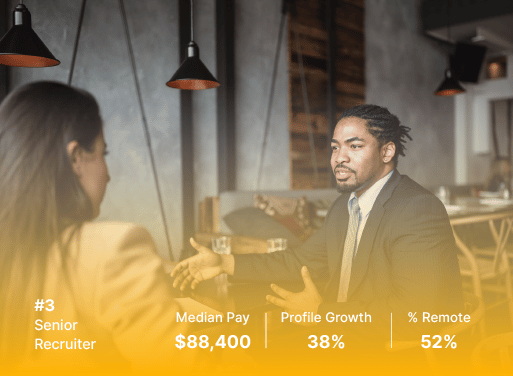 Recruiting Coordinator
The need for attracting top talent extends to less experienced recruiters as well. Recruiting coordinators are responsible for a lot of the administrative work that supports the recruiting function to provide a positive candidate experience throughout the application and interview process.
The responsibilities of recruiting coordinators can include posting job ads, sifting through resumes, entering data in the applicant tracking system (ATS), scheduling interviews, facilitating communications, creating offer letters, and conducting background checks.
Salary profiles created by job seekers have increased by 38 percent in 2021. However, wages have only increased by three percent. A little over a third of people with this position report that they work from home most of the time or all of the time. Workplace flexibility in this position may become increasingly desired.
Retail Sales Associate
Organizations everywhere are struggling to find people to fill all the positions they have open and that especially includes retail sales positions at brick-and-mortar stores during the holiday season.
Retail sales associates are typically tethered to stores and are responsible for greeting customers, assisting customers in finding merchandise, answering questions, stocking inventory, keeping the store tidy, operating cash registers to help customers check out, and providing other customer service functions.
Salary profiles for retail sales associates have increased by 37 percent in 2021. Wages have increased by five percent, which is higher than average, but not among the fastest growing jobs by wages.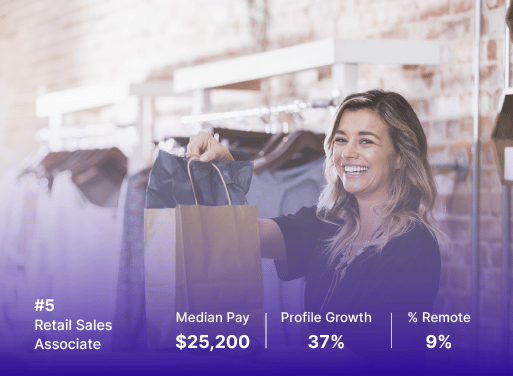 Social Media Manager
Social media usage has grown throughout the pandemic, and for organizations, that means caring more about how the company brand is perceived in digital spaces and the need to actively manage the conversation.
This is especially true in relation to the employer brand and how the company is presenting its values and commitments to employees and candidates in order to attract top talent.
Wages for this position are broad with wage growth having only increased by three percent over the last year. What's most important for this position is to make sure you are factoring in years of experience when slotting an employee's position in the pay range. Social media isn't an entry level position anymore; this is a professional job that makes a big impact. Forty percent of people with this job title also say they work from home most of the time or all of the time.
Hairstylist
Hair stylists are among the hottest jobs in 2021. That's especially good news considering that these positions were in dire jeopardy at the start of the pandemic when businesses shut down temporarily and people weren't able to get haircuts.
Now the demand for hairdressers and hair stylists is booming. Although many hair stylists may have abandoned this career path last year when the market dried up, it looks like they may be making a comeback in 2021.
Profiles from job seekers filling out salary profiles increased by 35 percent. However wages have only increased by three percent.
Clinical Research Associate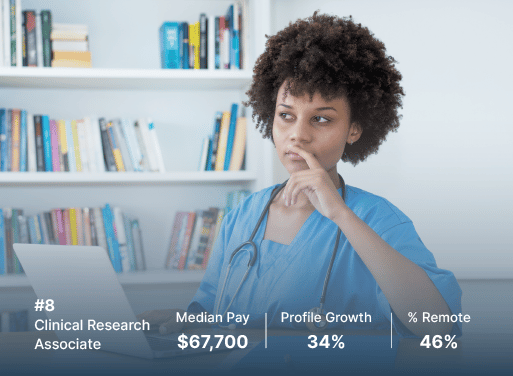 In the wake of COVID-19, clinical trials have certainly been important. Clinical Research Associate (CRAs) monitor clinical trials for research hospitals, pharmaceutical companies, or contract agencies.
Profiles from job seekers looking up salary information for this position have increased by 34 percent. Wages for this position have increased by six percent, which is higher than average.
Hiring fresh graduates is a common tactic, but young people grow their value fast over a short time frame. If compensation doesn't keep up, they're more likely to jump ship than more experienced employees who are further up in their pay range.
Content Strategist
In today's information-saturated world, great content is key to attracting customers. Internet usage has increased during the pandemic, requiring organizations to focus more on content.
Content strategists are experienced marketers that plan, design, write, and publish compelling content to raise awareness, engage audiences, build credibility, promote products and services, and generate leads.
Profiles among job seekers looking up how much a content strategist makes have grown by 34 percent. Wages have increased by eight percent, which is relatively high without being one of the fastest growing jobs by wages alone. This is also a position that 44 percent of people do from home most of the time or all of the time. Marketing occupations also have higher expectations for remote work than other occupations, which could be a factor driving job seeking behavior in 2021.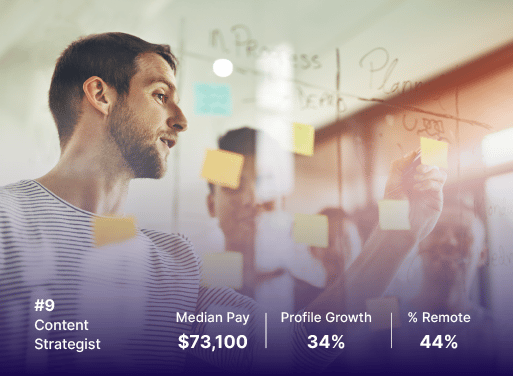 Compensation Analyst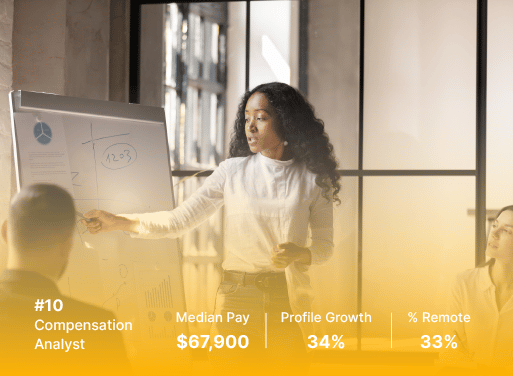 As the industry leader of compensation data and software, Payscale is thrilled to see the compensation analyst position land on the top 10 of the hottest jobs in 2021.
A compensation analyst is critical for any organization needed to build and maintain a compensation strategy and structures and conduct pay analysis. Profiles for people in this position evaluating a new job offer increased by 34 percent, but wage growth is stagnated at three percent. Perhaps compensation analysts need to be valued higher in this job market when getting pay right is critical?
We hope that compensation analysts making this list is evidence that organizations are actively growing their compensation teams and investing in compensation strategy and maturity as pay increases, pay equity, pay analysis, pay communications, and other compensation related challenges obtain greater recognition and significance.
About our research
Payscale provides a list of hot jobs which have seen the highest growth in profile frequency & wages from our salary survey from 2020 to 2021. We also provide other annual trends from our data, including: a hot jobs list of most evaluated job offers, reasons for unemployment in the last 6 months, BLS unemployment stats and wage growth trends.
Methodology
Payscale analyzed over 856,000 salary profiles completed between October 2020 and October 2021 by U.S. workers to curate our 2021 hot jobs list.
BLS Labor Turnover: Data sourced from the Bureau of Labor Statistics Job Openings and Labor Turnover (JOLT) Survey, September 2021 release. Industries selected are those with the highest quarterly and annual wage growth from the 2021 Q3 Payscale Index, as well as those with the highest quits rates (voluntary separations, see JOLT survey.)
Definitions
Total Cash Compensation (TCC): TCC combines base annual salary or hourly wage, bonuses, profit sharing, tips, commissions, and other forms of cash earnings, as applicable. It does not include equity (stock) compensation, cash value of retirement benefits, or value of other non-cash benefits (e.g., healthcare).
Median Pay: The median pay is the national median (50th percentile) annual total cash compensation. Half the people doing the job earn more than the median, while half earn less.
% Pay Difference: This is the average positive impact that a skill has on pay for the given occupational group. If an Art & Design worker sees on average a 10 percent impact on pay with a skill in user interface design, then they will on average earn 10 percent more than their counterparts without that skill. This calculation controls for compensable factors, including job title, experience, location, etc.
Download our report
HR leaders, hiring managers, and compensation professionals may be interested in additional data, analysis, and advice related to managing compensation during The Great Reshuffle. Our whitepaper on The Hottest Jobs of 2021 and Considerations for Compensation Planning in a Hyper Job Market will provide employers with additional data on trending jobs by wages as well as information and advice related to compensation planning to attract talent in the 2021 labor market.