Day two of #Compference18 kicked off with cold brew and plenty of discussions about feedback, Millennials, and radical candor. Whether you couldn't make it to Compference18 this year or simply missed a session you wanted to attend, we've compiled some of the biggest takeaways from day two so you can learn about the latest trends in compensation no matter where you are.
Radical Candor – What Is it?
Yesterday, PayScale's CEO – Mike Metzger – talked about the concept of trust in his keynote. He talked about using compensation as a way to increase trust in the workplace and improve the employee-employer relationship. The theme of trust was re-iterated in this morning's keynote by best-selling author of Radical Candor: Be a Kickass Boss Without Losing Your Humanity – Kim Scott. In this session, she offered us a way to build stronger relationships with our colleagues. The focus of the keynote was around radical candor, a practice Kim believes is sorely needed in today's workplaces.
Radical candor is when you 1) give a damn about your colleague (or direct report or boss) and 2) you give them the feedback they need to hear.
Why is radical candor hard to practice? It's hard because of the way human beings are wired and what we've been taught. First, it isn't natural for human beings to "confront" one another in today's workplaces. We've all been told that we need to be "professional"; we've been conditioned to hold back our opinions and criticism. Also, harsh, direct criticism triggers a "fight" or "flight" response in our lizard brains. Yet, if we want to build highly functional, high trust teams, delivering uncomfortable feedback (criticism) in a compassionate way is an essential behavior to practice.
So, how do we put this into practice? Kim gave us four key things to focus on:
  Get it: Solicit feedback before you give feedback. By asking for feedback, you help other people recognize that feedback is a gift. One of the gems from Kim is this: Criticism is a gift. The reason is this: 1) if you're right, you're giving the person an opportunity to fix the problem. 2) If you're wrong, you give the other person the opportunity to change your thinking.
 Give it: Give both praise and criticism. Make sure to give feedback routinely, even better is if you do it in impromptu conversations. Be humble when you do it.
 Gauge it. What's important is not what you say, but what they hear. Don't just plow through your feedback. Gauge the recipient's reaction. Their reaction (anger, sadness, dismissiveness) should clue you in on whether you want to be more directly challenging or to be "softer" and more empathetic in your delivery.
Encourage it. You need other people to adapt radical candor as well for this practice to spread. To encourage it, you can foster an environment where co-workers don't talk about each other behind their backs. As a manager, you can insist that people who have conflicts talk to each other directly, or if they can't resolve the issue themselves, ask them to come to you together.
To learn how to put Radical Candor into practice, check out Kim's book.
Coaching, and Why Your Organization Needs It – Ashley Adair, CEO of Blue Shoes Leadership
Why should coaching be a priority in your organization? According to Ashley Adair, CEO of Blue Shoes Leadership, coaching has the potential to be the needle-mover for your business.
But what is coaching? And what isn't coaching? From a technical perspective, coaching is a process that enables learning and development to improve performance. There are a lot of misconceptions when it comes to coaching, so it's important to understand what coaching is not. Things like training, consulting, networking, therapy, are not actually coaching. These forms of learning are more process oriented, whereas coaching is focused on the future goal-setting and creating customized plans. So, how does internal coaching help organizations thrive?
Coaching Helps Employees Change Negative Behavior
Coaching is not about giving orders and measuring results. Coaching can help employees understand how their behavior might be impacting organizational objectives and employee moral. Whether the impact is positive or negative, coaching can help employees change their behavior in addition to the way they communicate.
Coaching Can Help Employees Identify Underlying Business Problems
Through coaching, employees are able to better pinpoint the issues that (unknowingly) may be keeping them from being successful at work. In her talk, Ashley gave an example of someone who may be consistently turning in sloppy work. Without coaching, it can be hard for managers to understand where the problem stems from. While the initial assumption for submitting sloppy work could easily be blamed on the employee being lazy, with coaching, we're able to learn that other other factors may be impacting their performance. For example, perhaps they are overworked, or were given little direction on a project.
What Can You Do? Start a Pilot Program In Your Own Organization.
If you're interested in kicking off your own coaching program in your organization, the first step is to build a foundation. Why are you doing this pilot? How long are you doing it for? Will you involve your leaders? How often will you meet? And how will you measure the impact of your coaching program? Determining these things will build a solid foundation your organization can use to move forward with an internal coaching program.
To learn more about Ashley Adair and her coaching style, visit Blue Shoes Leadership.
Compensating the remote workforce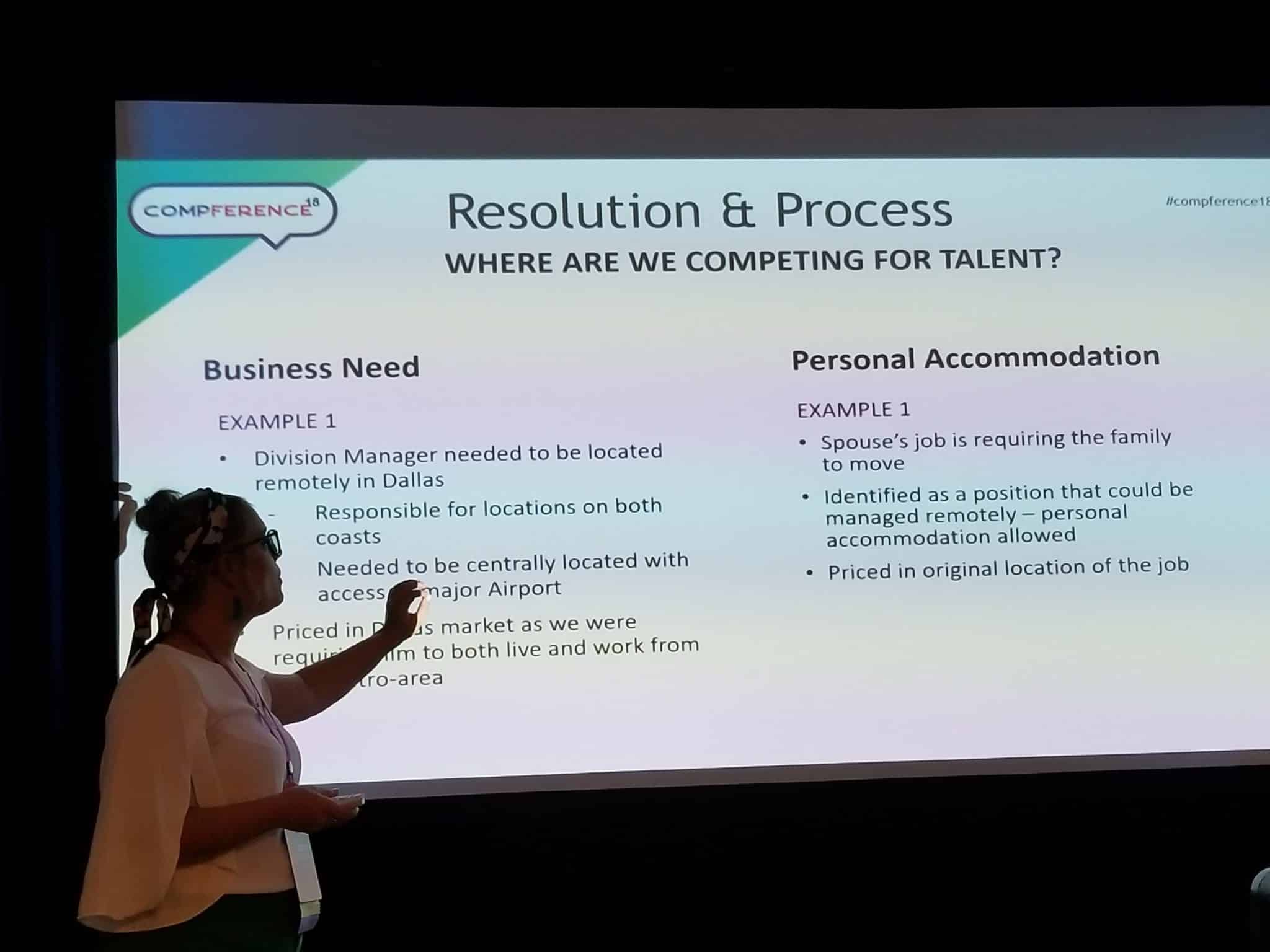 In this session, Teresa Perez (Data Analyst at PayScale), Jesse Haydon (Compensation Professional at PayScale) and Kelly Phillips (Sr. Compensation Analyst at Lamar Advertising) gave us some tips as well as examples on how to pay remote workers the right way. In particular, we loved the case study Kelly shared with us. Kelly addressed a common question we often hear from comp professionals: "which market should I be benchmarking my position to when I have a remote employee?"
She shared a great framework for deciding which market you should use when pricing a remote position, while maintaining consistency and fairness for all positions.  
Context:  Lamar Advertising focuses on out-of-door (out-of-home) advertising, which includes billboards, bus wraps, subway, and airport advertising. They have a decentralized culture, with employees in 40 states plus Canada.
Challenge: As a business, Lamar needed certain employees (e.g. sales) to be located remotely. Also, some employees MUST relocate to "move up". Yet, top talent was hesitant to relocate. To address the issue, Lamar decided that they needed a solid strategy on how to price remote employees against the market. The key question the Comp team had to answer is "why are employees working remotely?"
Lamar was able to identify two types of remote workers: 1) employees who need to be remote for a business reason; 2) employees who want to be remote for a personal reason. They decided to use different strategies for each employee type.  
Business necessity example: A Division Manager who managed bi-coastal clients needs to be located centrally, so that he can visit clients easily by flying out of a major airport. In this case, the employee chose to be located in Dallas and the business agreed that it makes business sense for him to live and work there. For this employee, his job was priced to the Dallas labor market, because the business wanted him to be located there.
Personal Accommodation example: An HR Manager who chose to move due to spouse's job. In this case, the person didn't need to relocate for a business reason. And the company felt like they could hire from the corporate headquarter location if the role needed to be backfilled. For these reasons, the job was priced in the original location.
As a result of using this segmented approach, Lamar Advertising was able to maintain flexibility, get employees to relocate when the business need arises and improve employee retention.
Need more help on determining how to pay your remote workers? Check out our blog post 5 Ways to Pay Remote Workers and Keep Them Engaged.
Want more #Compference18?
Head over to our recap of day one to see what we learned. Or, check out the product updates and upcoming roadmap we announced on day one.