Day one of Compference18 kicked off yesterday with over five hundred comp pros and HR leaders in Orlando, Florida. Whether you were here to participate in the discussions, or you're interested in learning what you missed, here are some of the highlights from the first day of Compference.
Reimagining Compensation – Mike Metzger, CEO of PayScale
Mike Metzger opened up Compference18 with a reminder of why communication is so important when it comes to compensation. Essentially, reimagining compensation means reimagining the employee experience. He believes that organizations should strive to be the employer of choice. But how do you do it? According to Mike, it starts with fairness, trust and transparency. Compensation plans should be fair, and teams should have enough information that they can conclude on their own that their compensation plans are fair. His best piece of advice? If you want different results, you have to try different approaches.
Product Announcements – Product Leaders Across PayScale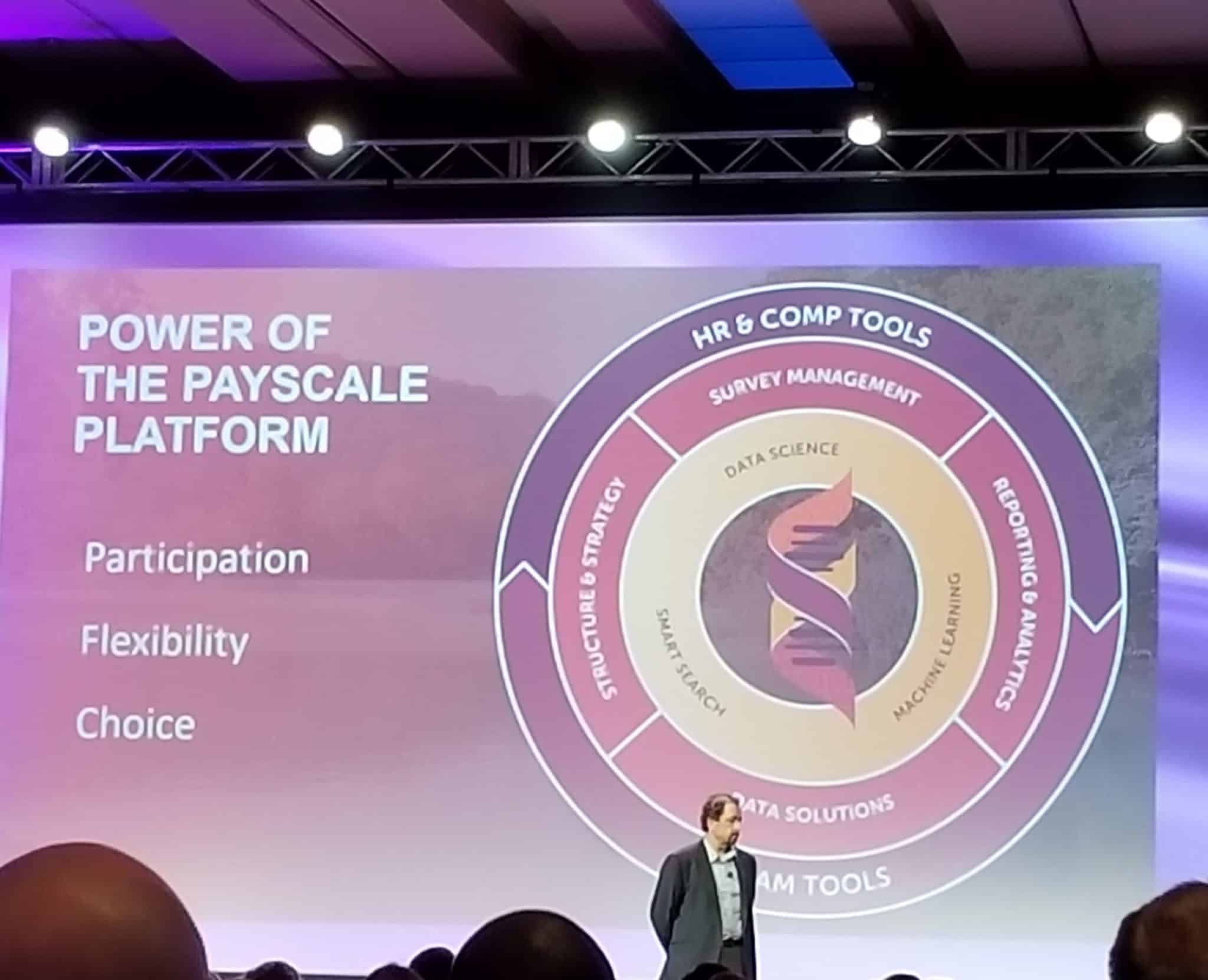 On the first day of our 2018 Compference, PayScale product leaders announced some exciting updates about our products and revealed our vision for what's to come in the world of compensation. Here are the enhancements and new features you can expect to see across our product portfolio.
1. Introducing the PayScale Platform
Over the last year, PayScale's engineering team made significant updates to our infrastructure, with the goal of making PayScale a true platform. With that, Insight Lab, MarketPay and PayScale Team are built on top of a common set of technologies; they are able to exchange data and share features, resulting in faster innovation and frictionless access to data. Being a platform gives our customers more flexibility and choice — to be able to pick and choose the experiences that matter to them most. 
2. Support for Job-Based Ranges
At this point, we've added support for Job-Based Pay Ranges in MarketPay. This feature is currently in beta in Insight Lab, and will become broadly available in Q4. This feature allows customers to create a pay structure that focuses on employees' specific jobs and their range penetration within that role. This can be an easier way to communicate pay progression and steps to higher pay to an employee than in a grade-based structure. 
3. PayScale Team Has Been Rebuilt on PayScale's Platform
PayScale Team is our unified solution for managing the pay increase cycle, giving comp professionals and HR teams the ability to empower and collaborate with managers to get pay right. At this time, PayScale Team has been rebuilt on PayScale's Platform using new technology. This unification provides one place for managers to collaborate with HR to provide input on jobs (Job Collab) and influence the increase cycle (Team).
4. More Robust Access to Data for All Customers and Better Insights
At this time, we're rapidly expanding the compensation data available to our customers. Our latest offering is called Company-Sourced Data; this data source is available because we've moved to a platform. Today, every PayScale customer can now join our exclusive data sharing community and on a quarterly basis, receive aggregated data that's specific to your market (city, industry) and covers fast-moving jobs. Unlike traditional salary data, you don't have to participate in a survey or submit your data to take advantage of this data source. 
At this time, we have over 1,000 organizations who are participating in this data sharing network covering over 800 locations. At this point, PayScale Company Sourced Data has more city & jobs combination benchmarks for hot jobs and fast-moving jobs than any other surveys on the market.
We also announced a host of other product enhancements designed to help customers make better pay decisions and communicate pay decisions to managers to employees. For more detailed coverage, see this blog post.
When it's right to see market pay as wrong; Patagonia's journey to pay a living wage
Patagonia is a company that has always done business differently. They are a B-corporation, a new kind of business that balances purpose and profit. B-corps are legally required to consider the impact of their decisions on their workers, customers, suppliers, community, and the environment.
Patagonia believes in paying fairly and competitively. For the most part, they pay employees based on market data (they pay at market or above market for their positions). But they do make an exception to this rule under one specific circumstance: when the market data says to pay someone less than a living wage.
What is a living wage? MIT has offered up a good definition and a living wage calculator:
The living wage model is a market- based approach that draws upon geographically specific expenditure data related to a family's minimum food, childcare housing, transportation and other basic necessities. The living wage draws on these cost elements and the rough effects of income and payroll taxes to determine the minimum employment earnings necessary to meet a family's basic needs while also maintaining self-sufficiency.
In this session Chris Mason, Director of Comp, Talent Management and Workforce Analytics at Patagonia, discussed the company's journey to pay all of its workers a living wage.
Why did Patagonia do this? As a company that stands up for the planet and for people, it was important for Patagonia to support their lowest earning employees and ensure that they don't need to maintain multiple jobs in order to cover their basic living expenses. This was something the company valued greatly and rising wages to the living wage level garnered broad support from senior management.
How did they make this happen? First, they identified the employee population they would need their wages adjusted; these tended to be employees in their retail locations (e.g. cashiers).They worked on an annual cycle that involved reviewing data about living wages, forecasting new ranges for their employees in their retail locations, budgeting and then worked with store managers to raise wages.
Paying all of its workers a living wage is an on-going journey for Patagonia. It'll be an interesting journey to watch.
REBOOT your Performance Management and Compensation Plans
Many organizations have been moving away from traditional performance management and Symetra detailed how they made continuous performance happen for their employees. The first step was to get senior leadership on board and create workstreams. Guiding principles and core values were crucial in guiding their process.
"Coach employees on where you want to get to – don't only focus on where you've been" – Jessica Callahan, Symetra
They considered factors such as pay for performance, base pay and annual bonus plans. They found it was key to develop a close partnership with the finance department and were able to go from a one size fits all approach to a one size fits one approach for performance management.
Dear HBR Live Podcast
A first time ever live taping of the Dear HBR podcast happened right here at Compference18. Presenters Dan McGinn and Alison Beard interviewed Susan Hollingshead, Chief People Officer at Vendini, to discuss workplace dilemmas and offer a better way forward. Conflicts can arise between employees and employers, particularly when it comes to pay. A lot of times, these conflicts are based on misperceptions and a lack of communication. These conflicts can be solved with better communication. The responsibility lies with both parties to resolve these conflicts.
Employers have a responsibility to ensure their employees' compensation correlates with their responsibilities. The best way to do that is to have a strategy for compensation, based on market research. Because budget limitations and/or timing can often be a factor, employers need to train their people managers to have transparent conversations about compensation. It is important to note that compensation can be more than cash, it can include things like learning and development, and flexible work situations. Managers can also help define an employees trajectory.
Conversely, employees should do market research as well to know their worth. Once armed with this market knowledge, they should initiate a conversation with their manager.  At times, there are various reasons for pay increase caps. Employees can ask probing questions to learn more about the financial prognosis of their company. If an increase looks unlikely, the employee should consider how meaningful their job is, and/or what other non-cash rewards can help fulfill their expectations. Overall, it's important for an employee to feel that their values align with the company's values. Check out the podcast here.
Send us any questions in the comments below and stay tuned for Compference18 day two updates!