You may have noticed something a little different the last time you visited the content section of the PayScale website. I am excited to announce we have rolled out a brand new version of our content center, known as the Modern Compensation Hub. Go check out the Modern Compensation Hub if you haven't already: hub.payscale.com. Don't forget to bookmark it!
This new experience replaces our old Resources Center, so now when you go here:www.payscale.com/hr/resources you will be greeted by the new experience.
Many of the new enhancements are the direct result of customer feedback, such as our Content Attitudes Survey administered earlier this year. This is a big change, but rest assured there is a method to our modern-ness. Here is an overview of the highlights of the new experience, and why I know you will love it.
Got feedback on our new look? We would love to hear it at editors@payscale.com.
Highlights of the Modern Compensation Hub
Find the content you want more quickly with enhanced navigation options. The new hub features enhanced navigation options so you can search content by content type, by content topic, or just check out the hottest new content in our Content Spotlight tab.
Delight your eyes with more visually appealing content. The bold, playful visuals of the PayScale brand are a huge part of our mission to "take the whomp whomp out of comp." We want our content to be as fun to look at as it is to read. As such, the hub features a magazine-style layout is much more visually appealing and easily scannable.

Engage in a richer content experience with interactive media. Did you know that PayScale has a whole content section dedicated to videos and tools? We do indeed! Check out this dedicated section here.
Get your hands on content faster with streamlined forms. Reading content is fun. Filling out forms to get content isn't. We know this, which is why we have streamlined the process so that filling out content forms is faster, easier and more stress-free.
Enjoy the content experience more with Flipbooks. Not that PDF's aren't thrilling, but we felt we thought our whitepaper experience could use a makeover. It's the e-reader era, and readers expect a more modern experience. Our new Flipbooks offer e-reader style functionality, with flippable pages, the ability to zoom in, search, watch videos, and much more.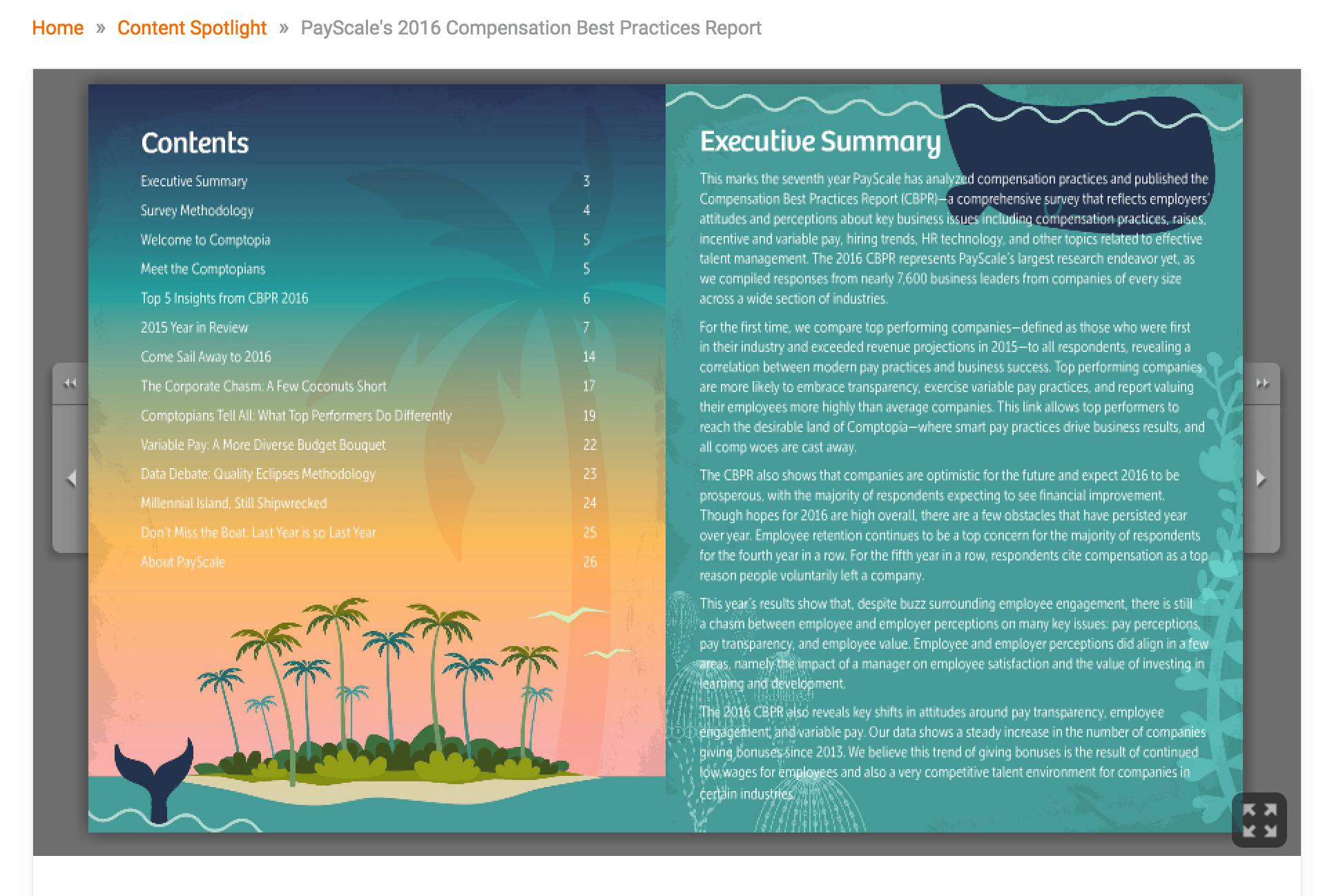 Got feedback on our new look? We would love to hear it at: editors@payscale.com.
We would love to hear any feedback on your experience with the new content hub. Please feel free to send to the address above or to me personally at jadem@payscale.com. Again, many of these changes were the result of direct customer feedback, so I'd love to make sure we are hitting the mark.
Sincerely,
Jade Makana
Director of Content